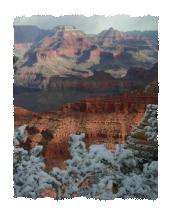 Grand Canyon West Rim
The West Rim of the Grand Canyon is located on the Hualapai Indian Reservation. It is the closest scenic Grand Canyon Rim to Las Vegas being a short 120 miles away. This is not within the National Park boundaries but Hualapai Tourism has developed it into an incredible experience. You can actually walk over a portion of the Grand cayon on the Grand Canyon Skywalk. This glass floor bridge provides a view like no other of the canyon. But if you are afraid of heights you may want to take advantage of the whitewater rafting trip down the Colorado River. There is also a Native American Village complete with authentic dwellings, performances and wagon rides. If you're looking to spend more time here, there are cabin rentals available also. The Hualapai Indian Tribe has contracts with several Las Vegas tour companies for guided tours to this gorgeous canyon overlook.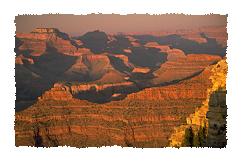 Grand Canyon South Rim
Open 365 days a year, the South Rim of the Grand Canyon is 7000 feet above sea level. The Canyon View Information Plaza is the main facility here. You can park your car and ride the free shuttle or walk the short trail from Mather Point. Many overlooks are accessible by car but the free shuttle also provides transportation to overlooks.
For those wishing a hiking experience, the Rim Trail follows the canyon rim from Pipe Creek Vista to Hermits Rest. The trail portion between Pipe Creek Vista and Maricopa Point is paved and wheelchair accessible. The unpaved parts of the trail are very narrow and close to the edge. Bicycles are never allowed on this trail.
One incredible overlook is the Yavapai Observation Station at Yavapai Point. This panoramic view includes Phantom Ranch and the Colorado River.
Located on a large tributary canyon on the south side of he Colorado River is the Havasupai Indian Reservation. This is not within the National Park boundaries. It is administered by the Havasupai Indian Tribe. The village of Supai is only accessible by horseback or an 8 mile hike. Hiking is by tribal permit only.
Mule rides down the South Rim to the Colorado River are extremely popular. Reservations should be made 23 months in advance. Mule trips operate year round. Don't put much faith in being on the waiting list as there are very few cancellations. Mule riders must be in good physical condition and at least 4 feet 7 inches in height. They must also weigh less than 200 pounds. Further, they must be able to speak and understand English fluently. Mule riders must not be pregnant or afraid of heights and large animals. This is a two-day trip. One day trips are available which only travel part way to the Colorado River. Horseback trail rides are available in 1, 2 or 4 hour increments at a stable just outside the Grand Canyon National Park.
You will be able to find lodging inside the National Park at:
Bright Angel - On the rim
El Tovar Hotel - On the rim
Kachina Lodge - On the rim
Thunderbird Lodge - On the rim
Maswik Lodge - West end of village
Yavapai Lodge - Next to Market Plaza