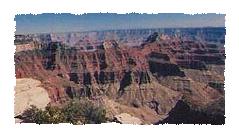 Grand Canyon North Rim
The North Rim of the Grand Canyon provides quite a different view of this magnificent scenic wonder. It is nestled in a forest a mere 8000 feet above sea level. Visitors with heart or respiratoty problems may experience difficulties at this elevation. The temperatures here are cooler and thunderstorms are prevalent during the summer months. Heavy snows usually close the road into the North Rim from late November to mid-May.
Three viewpoints from this location display the vast expanse of the canyon rather the its enormous depth. It is difficult to see any views of the Colorado River. Two overlooks, Cape Royal and Point Imperial can be reached by following a winding scenic road. There are several pullouts along the way a a short walk to each viewpoint.
Bright Angel Point located at the southern end of the entrance road provides a classic canyon view. A paved half-mile round-trip trail leads out from the Grand Canyon Lodge to the ridge. The trail has drop-offs, stairs and is very steep at times but the end result is dramatic views into Bright Angel and Roaring Springs Canyons.
A popular spot for viewing sunrises and sunsets is Cape Royal. Its panoramic views across the canyon are framed through a natural arch of "Angels Window". On a clear day you can see the Desert View Watchtower across the canyon on the South Rim.
The highest point on the North Rim is Point Imperial at 8802 feet. The view overlooks the Painted Desert and the eastern end of the Grand Canyon. Contrasting colors of red and black Precambrian rocks make this a creative photo opportunity.
If you have a four-wheel drive vehicle you may wish to travel to Point Sublime. This is the western-most of the North Rim views. It is a rough two-hour one-way trip in a remote area. Be sure to inquire about road conditions prior to setting upon this adventure.
You will be able to find lodging inside the National Park from mid-May to mid-October at:
Grand Canyon Lodge - Near the ridge